NH's #1 Painting Contractor®
NH's #1 Interior & Exterior Painters
Brentwood NH's #1 Interior & Exterior Painters
New England Painting (603) 793-3611
Complete Interior & Exterior Painting Brentwood, NH
New England Painting is Brentwood NH's #1 Painting Contractor. From Interior & Exterior residential house painting to commercial and industrial painting we do it all, small projects to entire developments. We provide estimates within 24 hours, do not require deposits, offer written guarantees, furnish references upon request and are insured for over $1,000,000. We would love for you to join our long list of satisfied NH customers. Consider inviting a NH painting contractor you can trust and enjoy the high standard of business practice you're entitled to.
New England Painting is a local NH painting company. It was Created and is owned and operated by New Hampshire native, lifelong resident and master painter Anthony Ward.
Services We Provide in Brentwood New Hampshire
Residential Commercial & Industrial Painting
Interior & Exterior Painting

Power Washing

Ceiling Retexture

Wallpaper Removal
Using High-Quality Paints Including:
Sherwin Williams Paints™ Benjamin Moore Paints™
Proud to Have Painted at the Following Companies:
Testimonials in Brentwood New Hampshire.
Exterior Painting
Pauline Schadlick
Brentwood, NH
"Tony at New England Painting restored my cape with oil wood preservative and my home looks like new. Thank you for a professional and high quality job. The painters were excellent and worked very hard. Tony was available during this project for any suggestions or support . Very happy with the results and the efficiency and quality of the project !"
Exterior Painting
Kim & Dean Farmer
Brentwood, NH
"Tony and his team were professional and courteous from the initial visit to give a quote throughout the entire process. The work was so superb that two different neighbors requested the information on who painted my house and both used Tony's team. On top of the great work, Tony's estimate was only 2/3's of what three other contactors wanted for the same job. I would highly recommend New England Painting."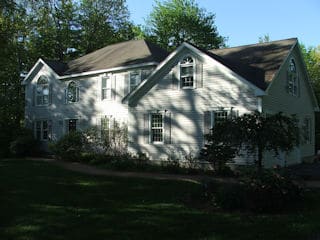 Exterior Painting
Todd Fitzgerald
Brentwood, NH
"Tony, I wanted to convey my sincere gratitude for the paint job you did on the house. Your crew was clean, efficient, and courteous. Your estimate was on the lower end as far as price but the quality of your work was terrific. We will use you in the future and recommend you to our friends."
Free Estimates Within 24 Hours!
Interior Painting
Jessica Pace
Brentwood, NH
New England Painting was great.
"Tony's estimate was fast and the job was done within a week. Paint color match was perfect! Thanks again!"
Rating: 5 Star Service.